Presentations

Maximum number of audience: 700
Adobe presentations:
Adobe Acrobat 9 launch.
Adobe Creative Suite 1, 2, 3 presentation to the creative design studios.
Adobe LiveCycle PDF technology presentation to banks and finance industries.
Adobe DRM (Digital Rights Management) technology presentation for the Hungarian Government and the Hungarian Protection of Author's Rights (Artisjust).
Other Adobe DRM presentations.
Adobe Acrobat and PDF technology presentation to the Architecture, Engineering, Construction (AEC) sector.
Adobe Acrobat and the digital signature presentation.
Adobe InDesign Scripting presentation on the PrintExpo (Hungarian big exhibition, like the Drupa in Germany).
Color Management presentation together with the X-rite.
Color Management and Pantone presentation and workshop.
Font Management presentation and workshop.
Everyday using of the Digital Signature in the Acrobat presentation.
PDF standard presentation.
HDR technology presentation.
RAW images presentation.
DNG presentation in the Hasselblad conference.
The PDF and the Acrobat 3D technology for the AEC sector presentation in the Bentley conference.
Acrobat presentations for the education sector.
E-paper presentation to the government sector.
Adobe and the Web 2.0 presentation.
Adobe Flash and WebOS technology presentation in Zagreb.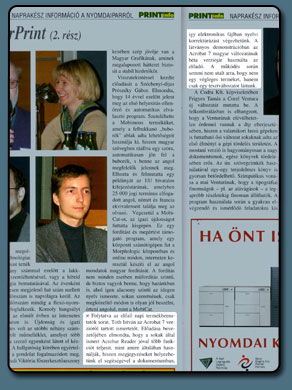 Adobe full day workshops:
Photoshop.
Photoshop Elements.
Illustrator.
InDesign.
GoLive.
Creative Suite.
Acrobat.
Acrobat 3D.
InDesign Scripting.
Device Central.
Other non Adobe presentations:
Pantone guides.
Photoshop plug-ins.

See the videos:
http://www.szoftver.hu/videos.asp
One year teaching at the Light Industry Technical Academy.